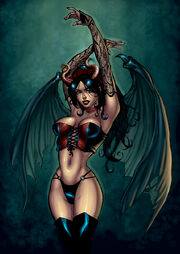 Caroline, a Tzimisce Archbishop in the Sabbat and known to be a longtime nemesis to
New Avalon's
former Prince,
Michelle Rauchete Petronov
. She is well versed in the flesh-crafting arts and, when not taking on a relatively 'human' form for a more subtle appearance, is known to prefer appearing in the form of a succubus. She has dogged
Michelle
for many years and even, for a time, managed to gain control of the former Prince's
Sword of Olympia
, a relic that
Michelle
had inherited from her sire and was rarely seen without.
Caroline is the Ductus for Freedom's Sword and is certain to make sure her pack remains one of the best in the city.
Tzimisce Lineage
Unknown

Unknown

Unknown

Unknown

Unknown

Caroline Marston

Unknown

-

Unknown

-

Unknown

-

Unknown

-

-
Ad blocker interference detected!
Wikia is a free-to-use site that makes money from advertising. We have a modified experience for viewers using ad blockers

Wikia is not accessible if you've made further modifications. Remove the custom ad blocker rule(s) and the page will load as expected.