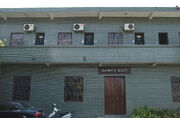 Dance Riot is an academy for young dancers in a bad part of town. It lies near
St. Petersburg College
, so it has the appeal of being near an educational center, but that does not make up for the poor part of town it sits in. The surrounding community approves of the school, though, as it provides something to keep their children off the streets. The school itself was founded by a former
performing arts dancer
who wanted to give something back to the community, thus leaving the stage and opening the school.
Dance Riot is also located beneath an apartment complex, so there always seems to be people around regardless of the time of day or night. The school suffered significant publicity problems and several of it's students where withdrawn from the school after one of the school's kids, Dolores Chapman, suffered a fatal accident.
Owner & Chief Instructor - David Matthews
Former Student - Dolores Chapman
Ad blocker interference detected!
Wikia is a free-to-use site that makes money from advertising. We have a modified experience for viewers using ad blockers

Wikia is not accessible if you've made further modifications. Remove the custom ad blocker rule(s) and the page will load as expected.