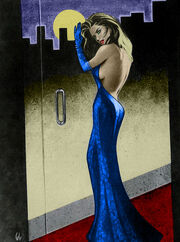 An elder Cainite known to have originated from Marsielles around the middle ages. She is reputed to have travelled for a time in her youth with the Ravnos
Taurin
before settling in
New Avalon
. Currently she is the city's Toreador Primogen and keeps a civil relationship with the former Prince,
Michelle Rauchete
, whom she is reputed to have known from their time in one of the Courts of the old country, before the inception of the Camarilla.
Jasmine always seems to have a smile on her face like she knows something that her conversational partners do not. Generally, it is believed that this is because that assesment is probably true. Jasmine has an affinity for finding out the truth, and then hording it. Nobody truly knows why the elder shares so little information, though most believe that it is simply for her own amusement since, as an elder, little else suprises her.

Some say that her and
Taurin
had a falling out some years ago and that this is why they no longer speak. Naturally, Jasmine will not speak of the matter. If she is guarded with information of a general nature, she is downright defensive when questioned about personal matters.
Toreador Lineage
Unknown

Jasmine DuGalle

-

-

-

-

-
Ad blocker interference detected!
Wikia is a free-to-use site that makes money from advertising. We have a modified experience for viewers using ad blockers

Wikia is not accessible if you've made further modifications. Remove the custom ad blocker rule(s) and the page will load as expected.