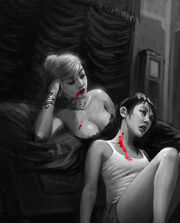 The childe of former Prince
Michelle Rauchete Petronov
and the head of the family-run
Richards Industries
that is located in downtown
New Avalon
. She is a no-nonsense woman of impeccable breeding and runs the business very efficiently, as well as keeping a strong handle on Ventrue affairs in the city in her role as Ventrue Primogen. She is very loyal to her sire,
Michelle
, and she does what she can to help the elder when necessary. She is also considered a strong supporter of Prince
Natalia
and will use her position as a member of the Primogen Council to help the Prince.
Margarit, as most of New Avalon's Ventrue do, sits on the city's Gerousia as an Aediles, or Supervisor. Being one of the eldest Ventrue in the city, she holds a great deal of esteem and has worked with the Board longer even than her own sire has.
Ventrue Lineage
Unknown

Margarit Richards

-

-

-

-

-

-

-

-

-

-

-

-
Ad blocker interference detected!
Wikia is a free-to-use site that makes money from advertising. We have a modified experience for viewers using ad blockers

Wikia is not accessible if you've made further modifications. Remove the custom ad blocker rule(s) and the page will load as expected.