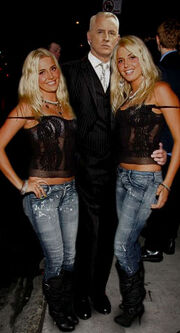 A Ventrue of strong lineage, Lord Marshal Longshaw is a childe of the Ventrue Justicar
Lucinde
. It is because of this that Lord Longshaw, aristocratic in life, maintains an attitude of belonging to aristocracy in death. After Lucinde's appointment as Justicar, Marshal served her as an Archon and was heavily involved in fighting the Sabbat during the East Coast War that occured in 1999. Because he is an Archon, Marshal is not exactly a member of
New Avalon's
Court, but he has spent a great deal of time in the city over the years.
Marshal is almost always accompanied by the ghouled twin beauties, Jasmine and Dominique DeLacroix who serve as his assistants, but seem receive more favor from him than one would expect from mere ghouls.
As an Archon, Marshal does not sit on New Avalon's local Gerousia, but he does hold sway in the clan overall by holding the title of Lictor.
Ventrue Lineage
Unknown

Marshal Longshaw

-

-

-

-

-

-

-

-

-

-

-

-
Ad blocker interference detected!
Wikia is a free-to-use site that makes money from advertising. We have a modified experience for viewers using ad blockers

Wikia is not accessible if you've made further modifications. Remove the custom ad blocker rule(s) and the page will load as expected.