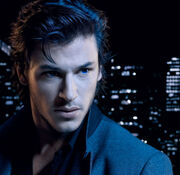 Ferdinand's
neonate childe and as much of a supporter of
Natalia
as his sire, Maxmillian has yet to prove himself as anything more than his sire's childe, but he is determined to do so. With
Ferdinand
destroyed, though sad at the loss of his sire, Maxmillian sees it as the opportunity to make a name for himself rather than living in the shadow of the elder Lasombra.
Natalia
has granted Maxmillian the holdings that his sire formerly possessed as a show of respect to her former comrade and in gratitude for Maxmillian's continued support in lieu of his sire's presence in Court.
Lasombra Lineage
Unknown

Unknown

Unknown

Unknown

Unknown

Unknown

Unknown

Unknown

Unknown

-

Unknown

-

-

-

Maxmillian Parker

-
Ad blocker interference detected!
Wikia is a free-to-use site that makes money from advertising. We have a modified experience for viewers using ad blockers

Wikia is not accessible if you've made further modifications. Remove the custom ad blocker rule(s) and the page will load as expected.