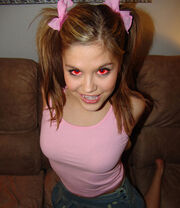 Rosa Vargas was very young when she was Embraced. Having the luxury of receiving an actual Embrace instead of being taken as a shovelhead and being the childe of a prominent member of the sect, she has fairly stable footing in the Sabbat. Despite her relative youth as a Cainite, she has quickly mastered the shadow arts popular among her clan.
Rosa is a member of Sins of the Flesh and she definitely lives up to the name and reputation of her pack.
Lasombra Lineage
Unknown

Unknown

Unknown

Unknown

Unknown

Unknown

Unknown

Unknown

Unknown

-

Unknown

Rosa Vargas

-

-

-

-
Ad blocker interference detected!
Wikia is a free-to-use site that makes money from advertising. We have a modified experience for viewers using ad blockers

Wikia is not accessible if you've made further modifications. Remove the custom ad blocker rule(s) and the page will load as expected.