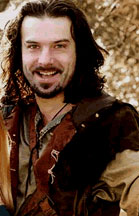 A longtime friend of
Michelle
, the Ravnos elder is said to have rescued her when she was still alive, but that she did not know what he was at the time and would not know until later encountering him again after her Embrace and learning of his true nature as a Cainite. Maintaining their friendship over the years, they once again encountered each other in
New Avalon
where he and
Jasmine DuGalle
, another Cainite from Marsielles that had been a travelling partner to Taurin for many years, decided to reside for a while and catch up on old times with
Michelle
.
Unfortunately, his time in New Avalon would not fare him well. Taurin met an ill fate with a Tzimisce and found himself deformed and unable to do anything other than sit, in pain and constant tormet. A mockery and charicature of his former self. Michelle vowed to help him and intended to find a way to undo the damage. After her public proclamation of this, it took several years and no clear definition of how she achieved it, but Taurin was restored and is said to be walking among the Kindred of New Avalon once again.
Ravnos Lineage
Unknown

Unknown

Unknown

Unknown

Unknown

Unknown

Unknown

Unknown

Unknown

Unknown

Taurin Chevan

-

-
Ad blocker interference detected!
Wikia is a free-to-use site that makes money from advertising. We have a modified experience for viewers using ad blockers

Wikia is not accessible if you've made further modifications. Remove the custom ad blocker rule(s) and the page will load as expected.