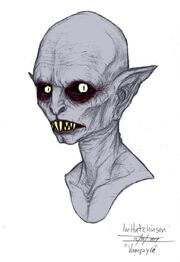 Willum's
second childe and serving as the Nosferatu Primogen, Timothy is a neonate who was quite obviously Embraced for the sole purpose of taking on the role of Primogen so that the task would not fall on
Willum's
lap, though whether this was so
Willum
would not need to give up his position as Seneschal or simply because he did not want to be on the Primogen Council is unknown. Timothy was also Embraced knowing full well what would become of him, though when he was given
Willum's
blood for the first time, while being Embraced as a sort of public spectacle in Court, he finally realized that it was not at all what he was expecting.
Ever the apparent puppet of his sire, he is considered weak among the Primogen Council, but he is often contradictory to Prince Natalia and considered something of a control factor against her, since he is not completely powerless with his sire ever near to assist him. It is generally believed that this stance against Natalia is due to his sire's desire, despite Willum's position as Seneschal, and this muddies the issue as to why Natalia still allows Timothy's sire to be her Seneschal.
Nosferatu Lineage
Unknown

Unknown

Unknown

Unknown

Timothy Davis
Ad blocker interference detected!
Wikia is a free-to-use site that makes money from advertising. We have a modified experience for viewers using ad blockers

Wikia is not accessible if you've made further modifications. Remove the custom ad blocker rule(s) and the page will load as expected.